East Anglia is one of the UK's major energy industry hubs, and offshore wind energy and its supply chain are important parts of the region's economy and business life.
It already offers many employment opportunities and the anticipated growth of those career paths in the coming years is leading to innovative developments in skills and education, work experience, apprenticeships and graduate programmes for the region's young people.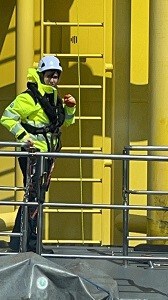 Georgia Cuddihy is one such young person, and when asked about her role as the Office and HSE Apprentice at Tidal Transit Limited, she said:"My apprenticeship is proving to be an incredible experience."
Tidal Transit has been chartering purpose-designed crew transfer vessels (CTVs) to offshore wind farm developers and operators for over ten years, and Georgia Cuddihy joined the team at its headquarters close to the port town of Wells-next-the-Sea, North Norfolk in 2020.
"The HSE management system for a maritime business centres around the procedures and routines to be implemented by the vessel crews, so as well as being involved in the office based management of HSE, it was imperative that Georgia's apprenticeship provided for practical experience aboard our CTVs," said Leo Hambro, Tidal Transit's Commercial Director.
Georgia said: "I was introduced to many routines on my first voyage aboard the CTV Eden Rose, including rope techniques, daily maintenance checks, the vessel refuelling process, navigation and watch procedures and chart management.
"We travelled from Grimsby to the Racebank Offshore Wind Farm, and on entering the wind farm field we pushed on to an SOV (Service Operation Vessel), dropping- off and collecting wind turbine technicians; this gave me the opportunity to learn about the safety procedures associated with vessel to vessel transfer. We also visited a number of wind turbines where, having been taught the correct way to do it, I was allowed to be the crew member transferring the technicians up onto the turbines.
"My second voyage last year was another eye-opener! It was a 5 day trip taking Eden Rose from Grimsby to Barrow in Furness, which involved travelling west through the Caledonian Canal. This exposed me to another set of HSE routines associated with deck management on long passages, the importance of fender placement and watch-keeping duties, to name but two."
Reflecting on her time spent aboard Eden Rose, Georgia said:"When I am drafting method statements and risk assessments, I now feel I have a much better understanding of the practicalities relating to the implementation of HSE policies and procedures."
Leo Hambro is planning for Tidal Transit to be able to offer further apprenticeship opportunities over the coming years, saying: "The importance of increasing the supply of electricity from offshore wind energy in recent announcements made by the UK Government will undoubtedly result in a growth of employment opportunities throughout the industry supply chain. My hope is that there is a corresponding increase in apprenticeship opportunities."