Yesterday, 15th September, MEST shipyard delivered Bakkafrost's first fully electric catamaran named 'Grønarók'. The electric catamaran is the result of an energy project facilitated by the Nordic Council of Ministers, which aims to find sustainable energy solutions for remote areas.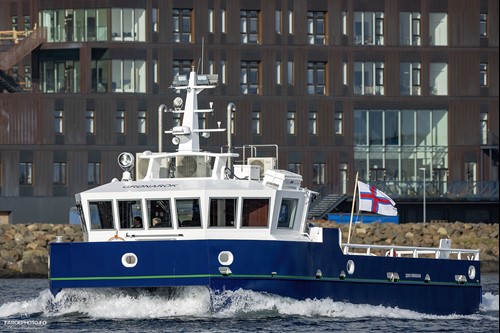 Speeches were made, and Regin Jacobsen, CEO of Bakkafrost, talked about Bakkafrost's sustainability strategy and the importance of cooperation between the authorities and the industry if sustainable solutions are to be implemented in the Faroe Islands.
Regin Jacobsen said: "Cooperation enables dreams and visions to be realised, but they can turn into nightmares if the cooperation does not work or is unorganised. Thus, it is of the utmost importance that we facilitate a land-based grid, which can produce and supply enough green energy.
We need to cooperate openly and willingly to explore new paths in all areas if we want to make a positive impact. There are still many changes that must be made if we are to reach our goals, but currently, things are going too slow, and if we do not start to make courageous decisions, we will be too late".
Also, the Faroese Prime Minister, Mr Bárður á Steig Nielsen, and Mr Kári Mortensen, director of the energy department at the Faroese Environment Agency, made speeches. Also, Mr Terji Nielsen from the national energy company SEV talked about the advanced technology, which has been developed to ensure that the boat will be powered with the most sustainable energy available. The software utilizes weather forecasts and machine learning to analyse when renewable energy is available.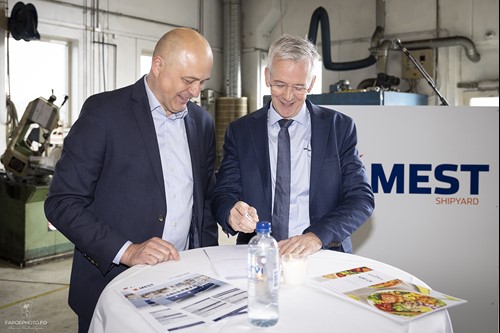 Finally, Mr Mouritz Mohr, CEO of MEST shipyard, talked about, how the electric catamaran will provide the Bakkafrost staff with a more comfortable workday with no engine noise or smell from diesel engines. Then, the keys were handed over to CEO Regin Jacobsen.
The catamaran will now commence operations at the Gulin farming site in Tórshavn.