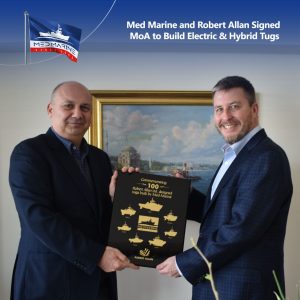 Robert Allan Ltd chief executive Mike Fitzpatrick and Med Marine's C.E.O Hakan Şen signed a memorandum of Agreement (MoA) to design electric and hybrid tugs at Med Marine's head office in Istanbul on 24 March 2023.
Med Marine named its electric tug series under registered brand of "VoltRA" series.
VoltRA Series tugboats has a range of from 21 meters up to 30 meters in various lengths and designs.
Med Marine's C.E.O Mr. Hakan Şen commented on the contract: As Med Marine, we are always in pursuit to seek and be ready for forthcoming challenges to serve our clients best with the latest features that technological advancements offer. We have been cooperating with Robert Allan since 1995 with around 200 RAL design tugs constructed so far. Once again, we have aligned with RAL for the design of these advanced technological electric and hybrid tugboats.
About Med Marine:
Med Marine is a leading Turkish shipbuilder and leading tugboat operator. The firm employs Eregli Shipyard, one of the largest shipyards in Turkey based on some 180.000 sqm with more than 30.000 sqm of indoor areas to build state-of-the-art tugboats, workboats either for its own operations and clients around the world. Med Marine has a very wide selection of state-of-the-art tugboat design portfolio and the shipyard is constantly being improved with advanced production standards by keeping up with the latest health, safety and environmental regulations. Med Marine has successfully completed the construction and delivery of around 200 tugboat projects.
About Robert Allan Ltd:
Robert Allan Ltd. is an independent, privately-owned firm of Consulting Naval Architects and Marine Engineers, established in 1930 in Vancouver, Canada.
Their business is centered on the design of commercial working vessels of all types, with a particular focus on the international tugboat market. In addition, designs include fireboats, research vessels, crew boats, barges, government service vessels (such as icebreakers and nav-aids tenders), shallow-draft vessels of all types for inland transportation, and a diverse range of specialized craft for almost any purpose as well as other floating things.
The company also provides expertise in analyzing technical and financial aspects of a broad range of marine operations and marine systems design.