A world changing for the better
Governments around the world are rightfully striving to do better, committing to ambitious yet achievable carbon neutral goals in an effort to create a more sustainable future. According to the Energy and Climate Intelligence Unit, more than 130 countries have made such a pledge, and though timelines vary from country to country – Germany is targeting 2045, Japan 2050, and China 2060, for example – the vast majority aim to meet these targets within the next thirty years or so.
The reality is that to successfully achieve a carbon net zero future requires a global effort, supported by government, industry and civilians alike. And perhaps no sector is more global, from an economic or societal perspective, than the shipping industry. Responsible for transporting 11 billion tonnes of goods each year – equating to a remarkable 1.5 tonnes per person – shipping, as the International Chamber of Shipping (ICS) puts it, "allows countries to access the raw materials needed to develop their economies" while also "enabling the manufacture and export of affordable goods and products."
The ICS also claims that shipping "has the lowest environmental footprint in the transport segment on a per-ton basis." While this is admirable, the International Maritime Organisation's (IMO) 2020 Greenhouse Gas Study (published in 2021) showed that total shipping industry emissions grew by almost 10 per cent from 2012 to 2018, accounting for 2.89 per cent of total global anthropogenic emissions. In real terms this is a sizeable footprint, and the IMO has acted to reverse the trend, setting its own targets in place to reduce emissions substantially by 2030.
Toshiba SCiB™ division – meeting the demand
Toshiba's SCiB™ rechargeable battery is empowering organisations towards a cleaner future within the maritime sector. Highly sustainable and offering excellent value from a lifetime cost of ownership perspective, SCiB™ uses lithium titanium oxide (LTO) in its anode to deliver safety, long life, low-temperature performance, and rapid charging, amongst other valuable characteristics.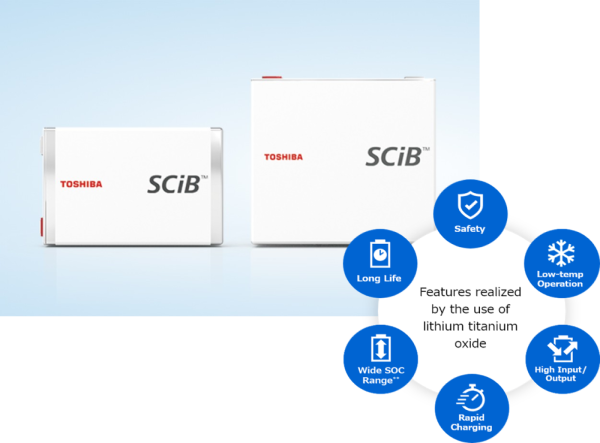 Six Outstanding Features of SCiB™
While for many organisations the switch to sustainability may be a recent one driven by global circumstances, for Toshiba it is a journey almost two decades in the making, with the company's commitment to building a carbon-zero future embedded within its culture as demonstrated by its Environmental Future Vision 2050. The SCiB™ division itself was commercialised in 2008 following intensive R&D which continues behind the scenes, while Toshiba Executive Fellow Koichi Mizushima worked on the team of Nobel Prize in Chemistry winner John Goodenough, contributing ground-breaking research in the development of lithium-ion batteries.
It's also worth highlighting that there is not a one-size-fits-all approach to electric batteries, and simply because a battery is rechargeable, it doesn't necessarily mean it is as clean as organisations might expect. Toshiba's Torkel Mallmin explains:
"It's important to understand that – while of course they are substantially better for the environment than traditional alternatives – all rechargeable batteries emit additional carbon dioxide in the course of the manufacturing process from raw material mining. Therefore, the environmental benefit is impaired if the battery is oversized or needs to be replaced several times over the lifespan of a vessel. SCiBTM realises long life through a downsized battery, which subsequently achieves much reduced CO2 emissions over the course of a vessel's life. This is clearly advantageous for organisations looking to meet sustainability objectives."
Beyond the perhaps obvious environmental positives, organisations looking to upgrade to rechargeable batteries – be that for vehicle, industrial or infrastructural usage – tend to rightly value safety as a top priority. It is here where Toshiba's reputation for unparalleled production quality stands out, with over 50 million cells being produced, and not a single safety issue being reported in the market. Going hand-in-hand with safety is of course reliability – a further outcome of the quality for which Toshiba is well-known.
Reliability in the world of rechargeable batteries isn't limited to their safety. Failure rates and lifecycle, as well as charging efficiency, are also of utmost importance, not least in the transportation sector where any delays can cause a major knock-on effect to the supply chain at a national, international, or even global scale. The 15,000 charge cycles provided by Toshiba's SCiB™ batteries ensures confidence and peace of mind in this respect, and the company is currently developing a tool which will enable operators to track and monitor capacity in real-time. Even after end-of-life, the batteries offer substantial second-life value as energy storage devices.
The above reasons helped lead to a partnership between Toshiba, Damen, one of the world's foremost shipbuilders, and Echandia, a company pioneering maritime zero-emission systems.
At the forefront of sustainable shipping – Damen and Echandia
In 1927, Jan and Marinus Damen established their eponymous shipbuilding company in the Dutch town of Hardinxveld-Giessendam, not far from the major port city of Rotterdam. Still family-owned, Damen is now very much a global company with a rich heritage, and over 6,500 vessels to its name. Today, 13,000 employees across 36 shipyards globally build 175 new vessels each year. Its wide portfolio of ships includes a naval business, super yachts and workboats.
Damen's commitment to staying at the cutting edge of innovation and its desire to meet the evolving demands of customers are key traits which have enabled the firm to stay at the top of its industry for almost a century. These same characteristics also led Damen to pledge to minimise its own environmental impact, from the initial design process all the way to the end of a ship's life.
By contrast, Stockholm-headquartered Echandia was founded just eight years ago in 2013, but has quickly made a name for itself through its commitment to pioneering the electrification of maritime vessels. Its lightweight, high-performance battery system uses Toshiba's SCiB™ cells, thereby creating a safe, reliable, and cost-effective LTO battery system designed specifically for nautical purpose.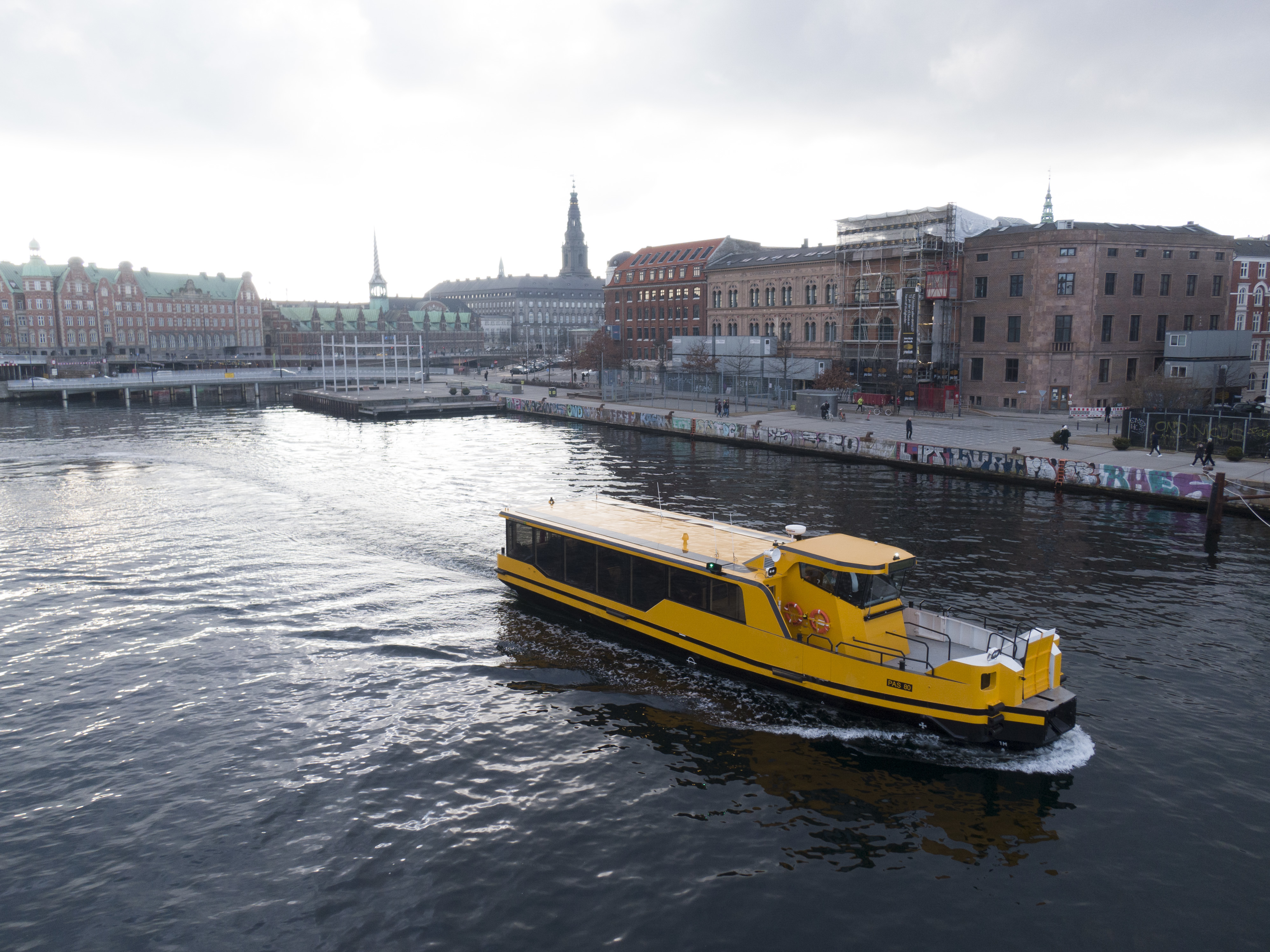 One of Damen and Echandia's electric ferry in operation, Copenhagen
Since its first project – the EU-funded BB Green vessel which launched in 2016 – Echandia's highly specialised team has worked on 45 maritime battery installations globally. Its aim is to become the market-leader in pure battery solutions, and its work to date has set it firmly on that path. This includes a successful project alongside Damen in 2020 – the first between the two – which saw them collaborate to build seven new ferries to operate in Copenhagen, each carrying 80 passengers.
A shared ethos to drive sustainable shipping, combined with the success of the Copenhagen project, led Damen back to Echandia when Ports of Auckland requested support for its first fully-electric tugboat.
Helping Ports of Auckland to become emissions-free
New Zealand's Ports of Auckland moves nearly one million TEU (standard 20-foot containers) every year for importers and exporters. It aims to be emissions-free by 2040, which is no small ask considering the scale of its operations. In order to achieve this, it contacted Damen to order its first ever electric tugboat, aptly named 'Sparky'.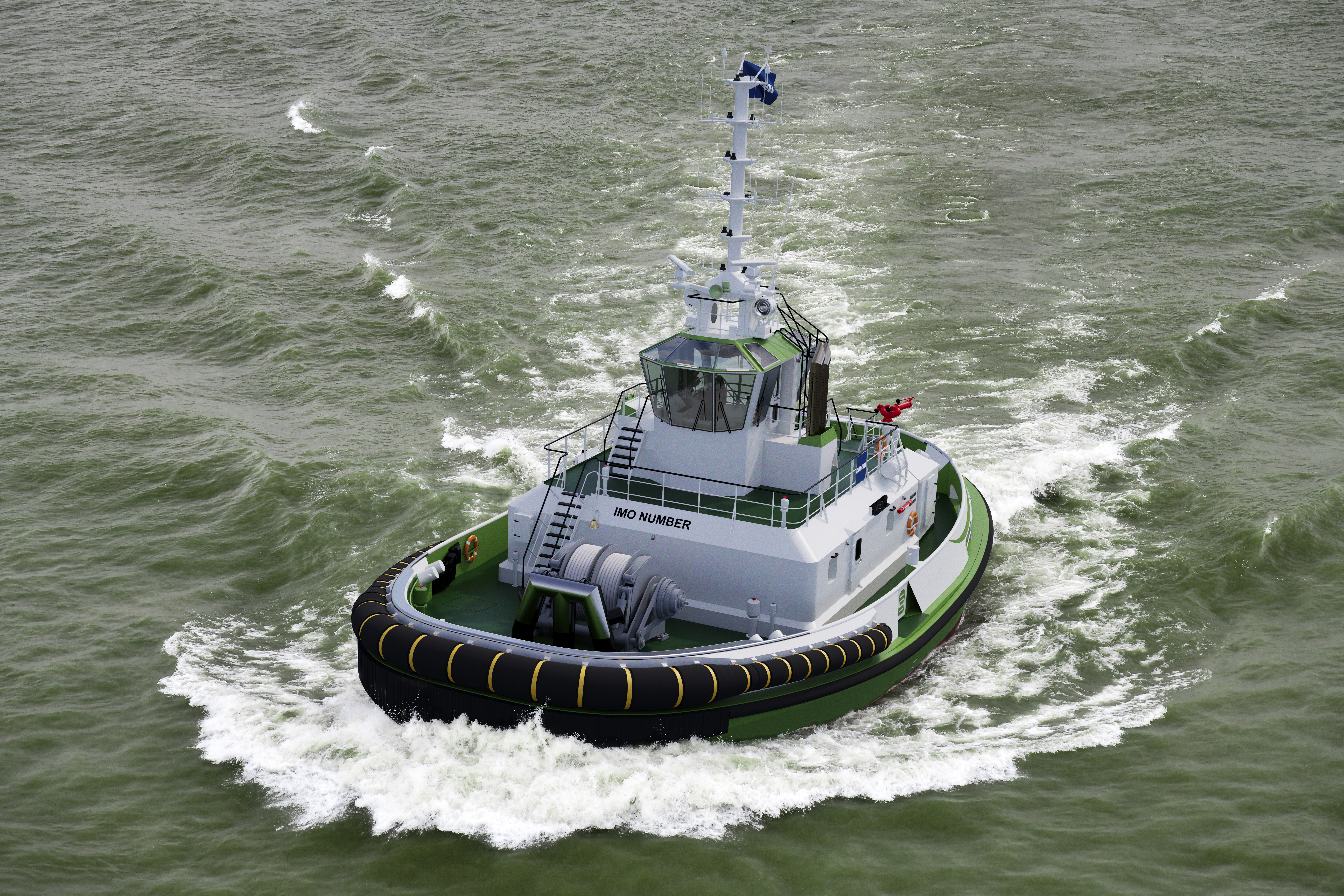 An artist impression of 'Sparky', the world's first fully electric tugboat with a 70 ton bollard pull
For Damen, it's existing relationship with Echandia and Toshiba, as well as previous successful projects, meant it was a no-brainer to rekindle the partnership in order to deliver against Ports of Auckland's requirements. Syb ten Cate Hoedemaker, Research Engineer E&A at Damen, explains more.
"We have complete confidence in the LTO rechargeable battery system provided by Echandia and Toshiba, and know that it meets the high expectations of our customers to power their vessels in a safe, durable, efficient and renewable way. This trust doesn't just stem from the unmatched product quality – equally valuable is the support provided by them. It's very much an equal partnership, and we're made to feel as though the Echandia and Toshiba teams are simply an extension of our own. Relationships are key in any business, but arguably that value is multiplied when you're pioneering new technologies and looking to drive real transformation within an industry, as we are aiming to do here. To know our partners share these objectives fills us with confidence and trust."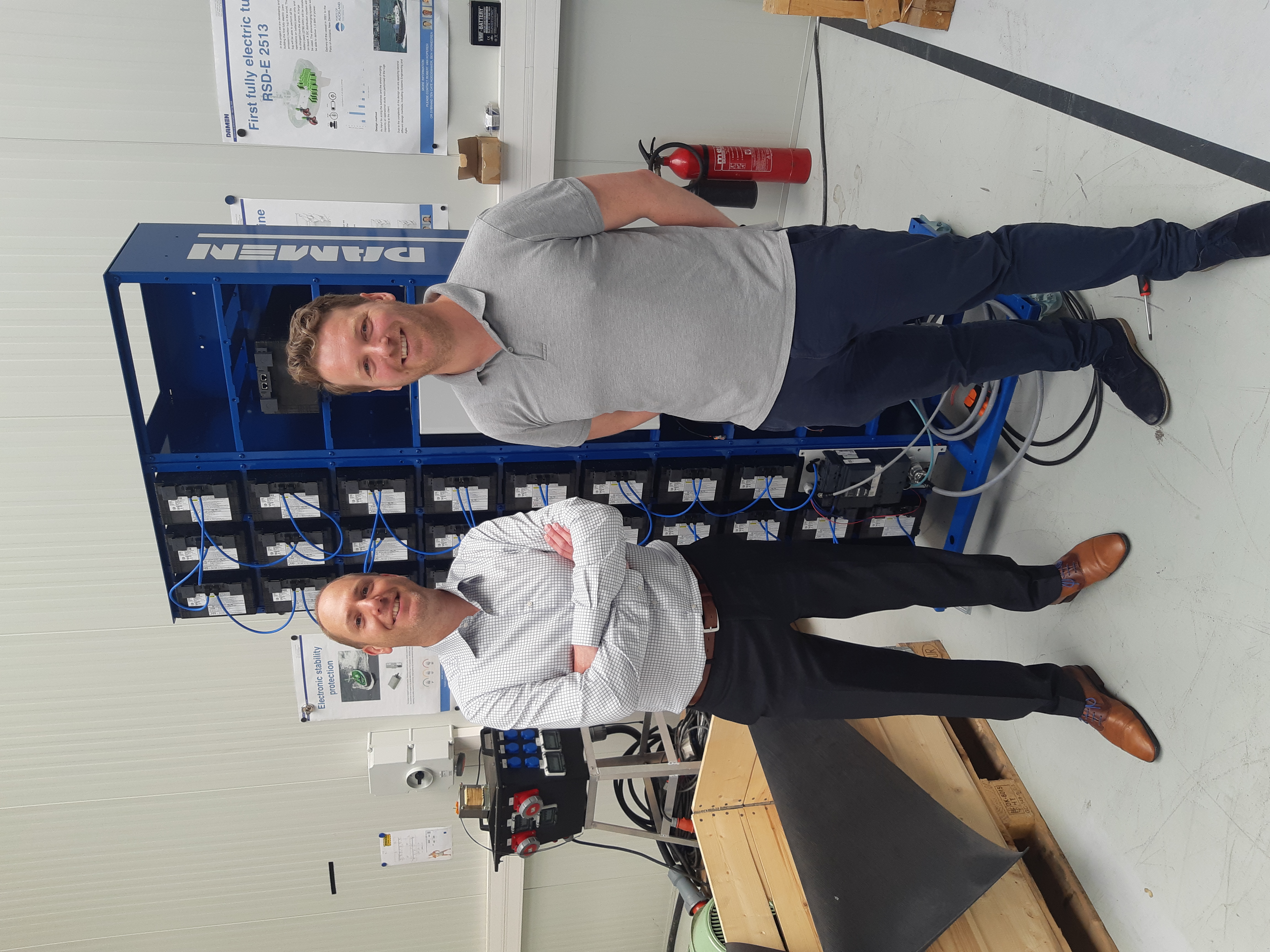 Johan Reurink, Supply Chain Manager, and Syb ten Cate Hoedemaker, Research Engineer E&A, Damen Shipyards
The tugboat is currently being built in Damen's Vietnam shipyard, and will soon be sailed to New Zealand to become operational. Yet the building process isn't quite as simple as that. Rather it requires a truly global operation, with constant communication along the way. The journey starts with Echandia's Development Engineers team, which is continuously focused on innovation and R&D. The battery itself is then assembled at the company's HQ in Stockholm, before being shipped to wherever the vessel is being manufactured.
In this case that is Vietnam, and at this stage battery installation, connection, commissioning and testing all take place, with ongoing collaboration between Echandia and Damen. A complex process in normal times, the global pandemic naturally threatened to make this even more challenging. Yet through the innovative use of VR headsets, as well as more standard video conferencing software, the process has continued unhindered.
"What is being delivered, through the collaborative efforts of Damen, Toshiba and ourselves, is essentially a 'Ferrari'-quality system. While there may be cheaper options available – especially when comparing up-front costs – ours delivers much greater value from a total cost of ownership (TCO) perspective," explains Magnus Eriksson, founder and CEO of Echandia. "Sparky's first objective is of course to enable Ports of Auckland to reduce its carbon footprint, but it is the intrinsic lifetime value, enabled by Toshiba's extremely high production quality, which has been one of the key differentiators in this project."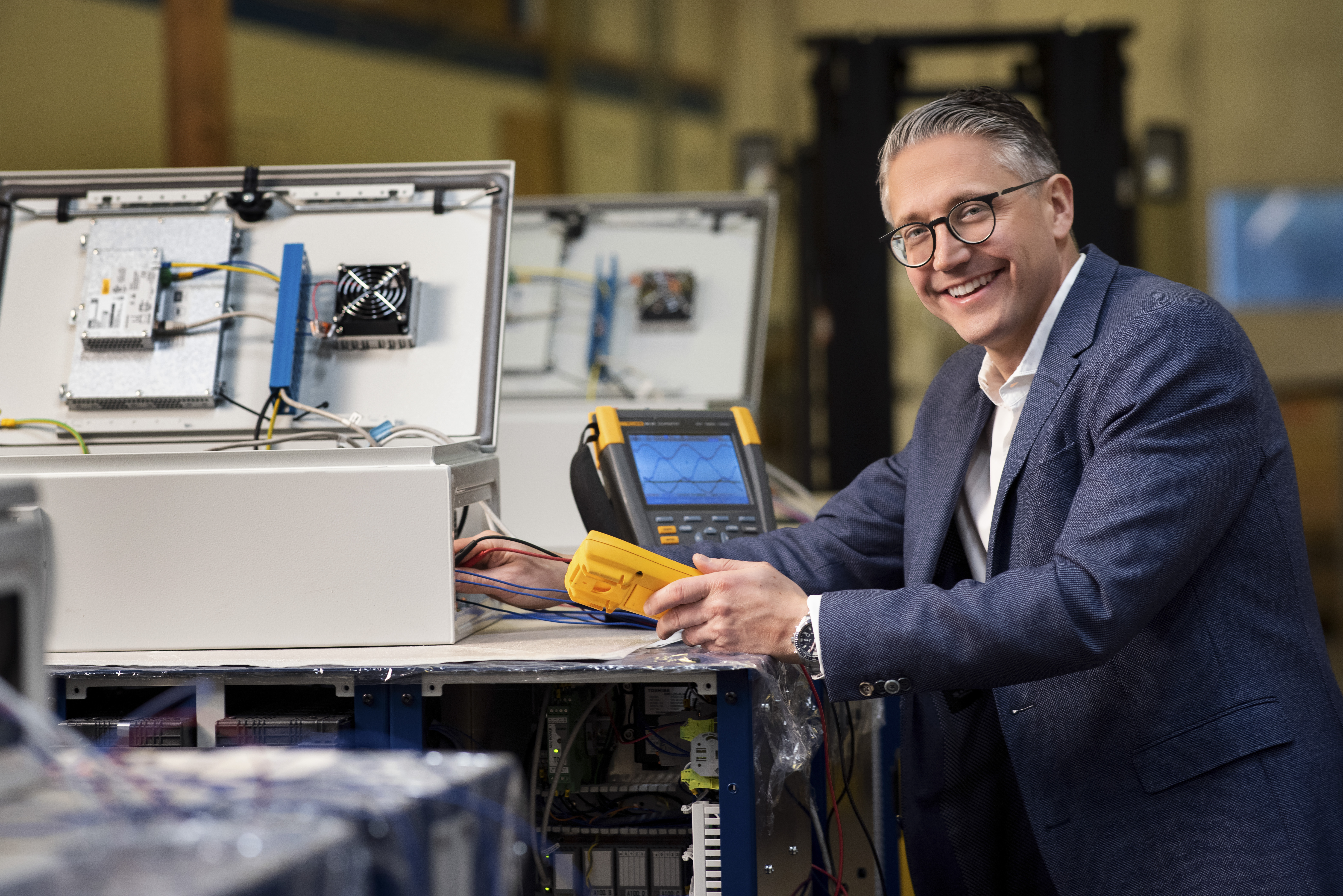 Magnus Eriksson, Founder and CEO of Echandia
"Beyond the product quality though, the trust and rapport between Toshiba and ourselves is instrumental to the success of our partnership. We're in touch with the Toshiba team on an almost daily basis, and they are always on hand to support us with any request – no matter how big or small."
Once operational, the tugboat will have a lifespan of 25 years, and is expected to save approximately 465 tonnes of CO2 in diesel emissions annually. Echandia and Toshiba will also continue to support Damen via live performance monitoring, and ongoing support and maintenance in the unlikely event it is needed. There is also potential for additional tugboats to join 'Sparky' in due course, with Ports of Auckland looking to expand its electric tugboat fleet as it strives to meet its environmental objectives.
Future focus
With the future of maritime very much electric, this is still very much the beginning of a long-term relationship between Toshiba, Echandia and Damen – with the latter two already having agreed on an exclusive partnership due to the trust which exists between them. While the Ports of Auckland project may be a small step in global terms, it represents a significant one for a maritime industry which emits around 940 million tonnes of CO² annually. For this trio of companies, it is intended to be the first of many such endeavours.
"We're extremely excited to see 'Sparky' become operational, and the future potential offered by that project to help Ports of Auckland extend its electric fleet," Eriksson continues. "But beyond that, we're already setting our sights to further afield. We're aligning more closely than ever with Toshiba from an R&D perspective as we look to expand and enhance our product portfolio. We're thrilled to be at the forefront of the maritime sector's transition towards a sustainable future, and look forward to working with Toshiba and Damen on future projects to make that happen."