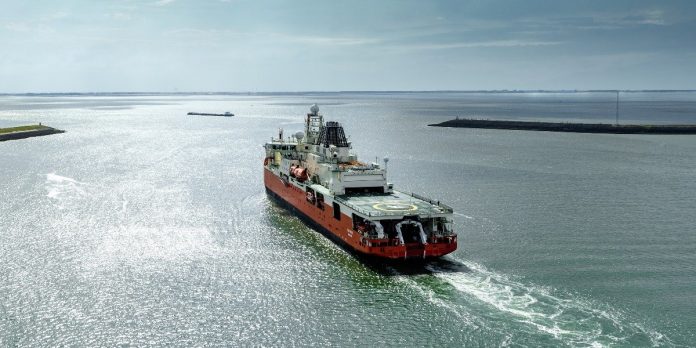 The new ASRV (Antarctic Supply Research Vessel) 'Nuyina', built by Damen Shipyards, has sailed from Damen Vlissingen to begin her seven-week voyage to Hobart, Tasmania, where she will begin her duties. Officially handed over to the Government of Australia, the 160-metre vessel displacing 24,000 tonnes is now the most advanced polar research vessel in the world. The ship was a key deliverable from the Australian Antarctic Strategy and 20 Year Action Plan; her mission includes the resupply of Antarctic stations and research campaigns, scientific research, icebreaking, transport, disaster relief, evacuation, and patrol duties.
The design and build of the vessel has been a multi-national effort involving the Australian Antarctic Division, the vessel operator Serco, Danish concept designers Knud E. Hansen, Damen's engineering and detailed design teams in the Netherlands and the construction team at Damen Shipyards Galati in Romania. They in turn were supported by the world-beating capabilities of the Dutch maritime sector. Around 120 Dutch companies throughout the supply chain were involved in the project under Damen's leadership.
"The Netherlands' self-sufficient naval supply chain is one of the best in the world, underpinned by the activities and innovative outlook of the Ministry of Defence and the Royal Netherlands Navy (RNLN)," says Roland Briene, Commercial Director at Damen Naval. "Defence as a key launching customer plays a vital role in creating and sustaining the top-quality, self-sufficient, naval shipbuilding industry that we have today, and Damen is proud to have been the lead contractor for many of the projects. It is their support that enables us to design, engineer and build what is one of the most complex vessels we have ever constructed, on time (with allowances for COVID) and within budget."
A range of Australian companies also played important roles in the construction of the ASRV 'Nuyina', such as Taylor Bros of Tasmania which supplied two, high powered, Antarctic landing barges.
"We are very proud that the Australian government chose to work with Damen Shipyards Group for such a complicated project," continued Roland Briene. "This was based not only on our long experience of building complex naval vessels, but also on our track record of working with Australian agencies and companies. Over the past twenty years we have delivered more than 75 ships to the country including three sophisticated support vessels for the Royal Australian Navy."
"It's a monumental occasion," added Gerry O'Doherty, Master of ASRV 'Nuyina'. "It's been custom designed and built for the Australian Antarctic Program and it's really special. It's day one of a thirty or possibly forty year lifespan! We're going to be able to do so much with it, and I just want to wish all those scientists and crew who will be working on it all the best for the future. Everyone involved in this project can take great pride in their contribution to the development of a vessel that has set a new world benchmark in polar science capability."
Along with the many innovative systems that the ASRV 'Nuyina' has to ensure that its environmental impact is as close to zero as is currently possible, it also has climate-controlled spaces in which up to 32 crew, 116 special personnel and one doctor will live for extended periods of up to 90 days. These include single and twin cabins all ensuite, a galley, a dining area, lounges, a theatre, a fitness centre, and yoga and medical suites. Its research facilities include 500m² of science laboratories and offices, wet well and ultra-pure seawater systems, and meteorological and air chemistry labs. She also has a range of 16,000 nm at 12 knots, and an ice-breaking capability of 1.65m at 3 knots.
The Hon Sussan Ley MP, Australia's Minister for the Environment, said' "RSV 'Nuyina' will be the most advanced research platform in the Southern Ocean. A $1.9 billion commitment to our Antarctic ambition, to our pioneering Antarctic history and to Australia's indigenous heritage.
"'Nuyina' is a Tasmanian Aboriginal word for southern lights, and when the ship arrives in Hobart later this year and comes under full Australian command, she will shine a light on the importance of Australian Antarctic science in monitoring and protecting our changing environment.