A thought piece by Liviu Galatanu at GLO Marine, a naval architecture and engineering firm with operations in Galati, Romania and the UK. Its purpose is to share GLO Marine's experiences from a recent project specifying a fully-electric vessel, and the lessons that it has learned along the way. By freely sharing the results of its R&D with third parties active in this sector, it aims to contribute to the common objective of accelerating the roll-out of this technology.
In 2014, Tesla Inc. made all their patents open source with the sole purpose of accelerating the
advancement of sustainable transport. Eight years later, the maritime industry needs a similar approach in order to put a dent in the scale of greenhouse gas emissions over the next 10 years.
We all need to come together and share our experiences, failures and eureka moments in order to
accelerate adoption of electric propulsion. Learning together from each other's trials and errors is similar to a single entity making all the textbook errors in the shortest possible period of time, until there are no more wrongs.
GLO Marine recently completed the concept design of a 17m harbour pusher-tug fully propelled by green energy and, in the spirit of enhancing our collective awareness, we are happy to share the challenges we had to overcome to reach a technically sound design. This is GLO Marine's pledge to a greener future and we hope that this will inspire others to go past the self-imposed walls of 'intellectual property' and contribute to accelerating the development of electric propulsion.
THE PROJECT
We were contracted by one of our clients to deliver a viable concept, starting from a blank sheet of paper and three main input parameters:
Engine power 2 x 300 kW
Operability window of six hours and charging time window of two hours
Operational profile specific to existing diesel-powered harbour pushers, as below:

SIZING THE BATTERY PACK
As with every electric propulsion project, the challenging part was identifying the most efficient battery pack to satisfy the operational profile sought after by the client. Unlike other vessel types such as ferries or aquaculture support vessels, which have well-defined routes and predictable operational profiles, a harbour support vessel undergoes more heavy-duty operations with unpredictable operational profiles. This poses a challenge and involves a number of trade-offs when sizing the battery pack.
We reached out to four well-known providers of batteries and electrical integrators and after several conversations we found, to our surprise, that only a single market player was ready to propose a viable solution; one powerful enough to satisfy the engine loads of a pusher-tug, yet small and light enough to be accommodated on board a vessel of under 20 meters in length. This was Brunvoll with a solution based on Corvus Energy's Dolphin Energy Storage System.
"We are also working with hydrogen fuel cell solutions for some projects but infrastructure for hydrogen distribution on shore is still in the early stages," said Bjørn Svendsen, Vice President, Sales & Marketing at Brunvoll. "Worldwide we see an high increase in interest in electric and hybrid projects."
The Single Line Diagram developed by Brunvoll following our specs is presented below: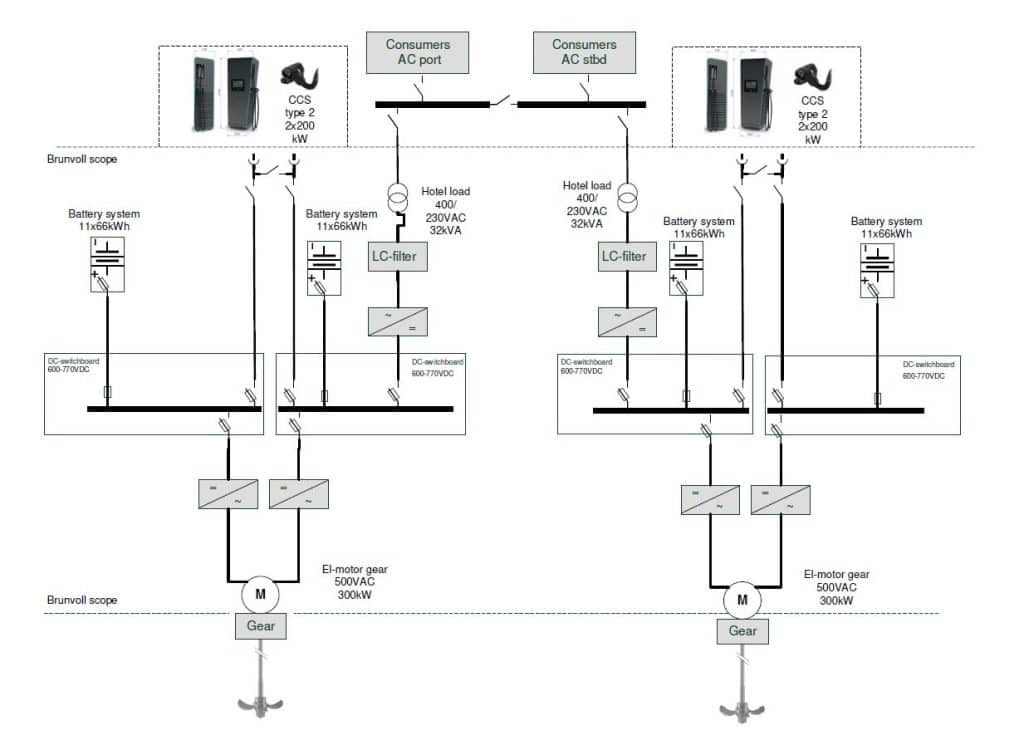 The result was an optimised battery system consisting of 4 x 11 strings, each putting out 66kWh and together delivering approximately 2487kWh usable / 2902 kWh nominal capacity. Each string measures 65 x 35 (50) x 211cm and weighs approximately 375kg, giving a total weight of 16.5 tonnes. This is more than acceptable for a small technical vessel not required to carry any other additional payloads on board.
There were however some trade-offs required. One was a reduction in the vessel's operational window from six hours to four hours, in order to keep the battery pack to a viable size and within budget. These had a knock-on effect on the battery system lifespan which dropped from ten to seven years, assuming use at full capacity as per the operational profile. These compromises are ones that our client is happy to live with.
Full battery specs below: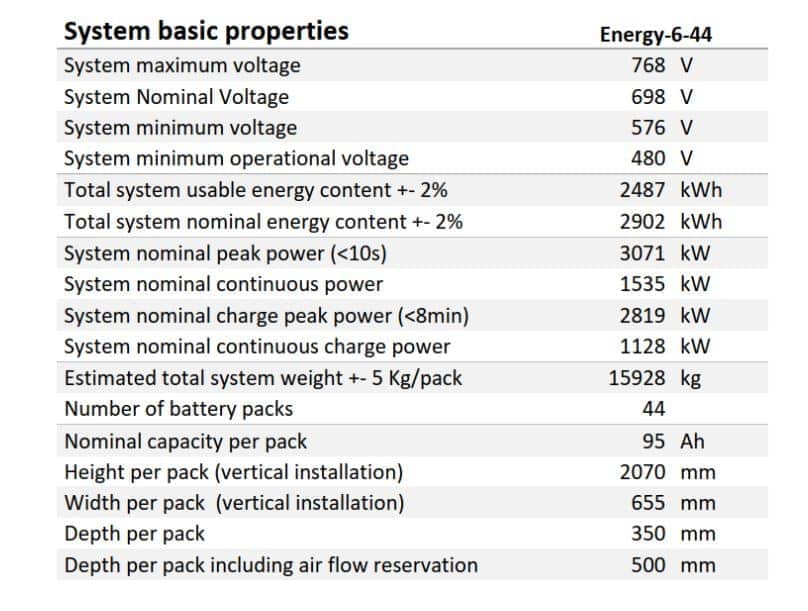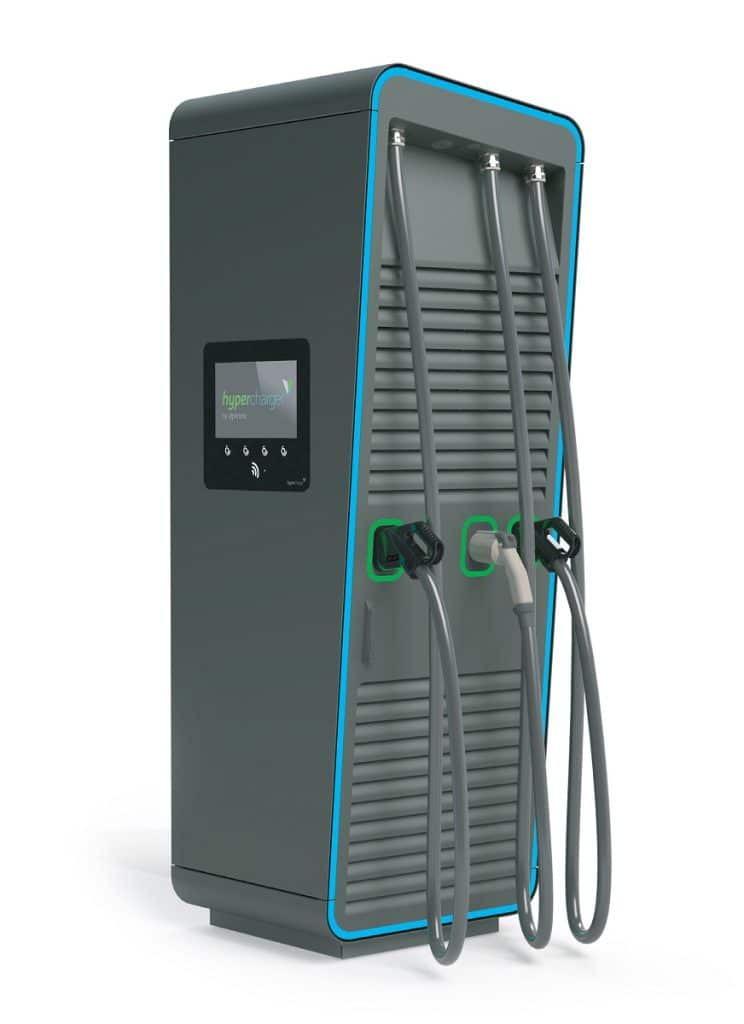 The full scope of the Brunvoll solution was the Triton EL Propulsion system, consisting of:
• Propulsion control system (Triton-CPP),
• Energy management system (Triton-EMS),
• Inverters and filters
• DC-link fuse cabinet,
• El-motors
• Battery system
The battery system will be charged using a network of four Hypercharger 300 units, which will deliver a full charge in 1 hour and 45 minutes.
SIZING AND COSTING THE VESSEL
With the most critical part sorted out, sizing the battery power pack, we then resumed our work as naval architects and proceeded to design the most fit for purpose hull shape and superstructure to meet the challenges encountered by a harbour support vessel.
The resulting vessel is a 17m monohull, with two pushing knees at the fore extremity and a h-bit towing arrangement on the main deck. Maximum bollard pull will be around 10 tonnes.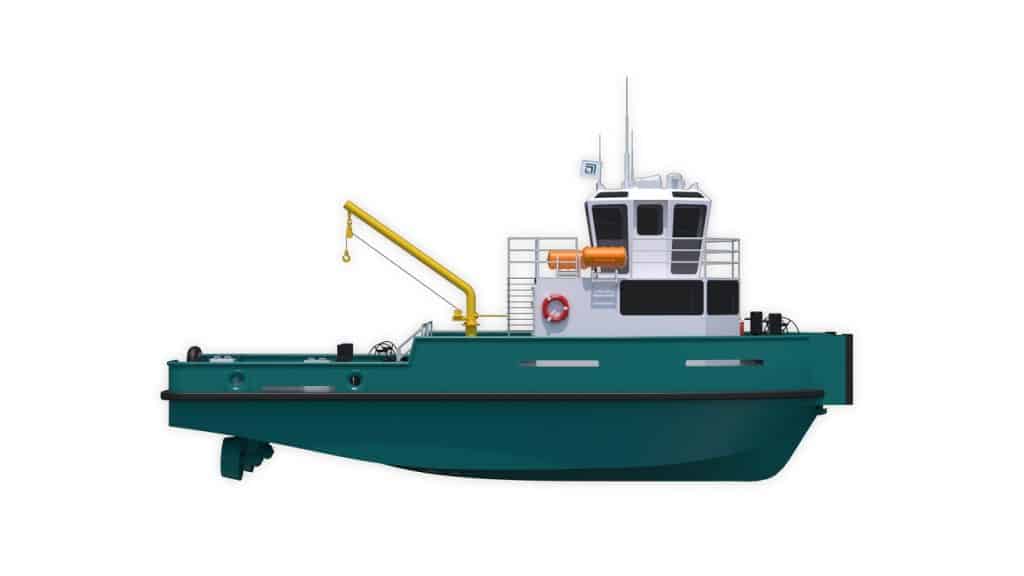 The vessel will be equipped with two, optimally positioned ZF azimuth thrusters (TYPE ZF ATL 401A WMC-FP), four electric anchor winches, and a smartly placed wheelhouse allowing 360 degrees visibility.
In terms of costs, we have estimated a total construction cost of circa 4.5 million euros, with the
electric propulsion system accounting for approximately 58% of that, the azimuth thrusters for
9% and the actual steel work and outfitting for circa 20% of the total cost.
The complete design package, usually between 6 and 10% of the asset's cost, is now at approximately 3% due to the increased costs resulting from the fully electric propulsion system.
We hope that all the above can serve as a starting point for all other naval architecture offices engaging in designing fully electric vessels. We certainly wish we could have had access to similar studies when we began work on our concept, and indeed, to have someone we could bounce ideas off in the spirit of not having to reinvent the wheel for the sake of intellectual property. On that note we invite anyone who wishes to find out more about our design to contact us directly and we'll be more than happy to share our up-to-date experiences in the spirit of supporting collective growth and development.
For a more detailed discussions, we can be contacted via
Comment from the battery manufacturer
Brunvoll is well aware that realising fully electric vessels, especially those operating at high speeds, is challenging due to the cost and weight of battery systems. The energy density is low compared to conventional solutions getting the vessel's operational profiles right and optimising energy consumption. This is crucial to emphasising optimized solutions which make the projects possible.
Another constraint is the current lack of access to suitably rated shore power. Early engagement between local authorities and power distribution companies and their local maritime sectors should deliver satisfactory outcomes for all concerned.
Brunvoll is working on hydrogen fuel cell solutions for some projects, but infrastructure necessary for hydrogen distribution and storage on shore is still very much in its early stages. Whatever fuels come out on top, they expect to see strong growth in fully-electric and hybrid projects in the years ahead.