VIKING Life-Saving Equipment, together with Norwegian maritime electric motor systems developer, Evoy, is making an historic launch with possibly the world's first electrically powered 6.55meter rescue boat, the VIKING Norsafe E-Mako-655.
VIKING Norsafe is the lifeboat, rescue boat and davit branch of VIKING Life-Saving Equipment, whose mission is "to protect and save human lives all over the world.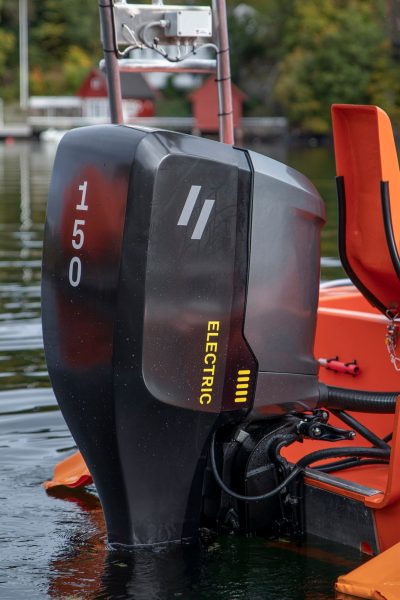 The Mako-655 is an existing rescue boat design that, up until now, has only been offered with traditional engine propulsion due to the current IMO / SOLAS regulation which states that rescue boats of this type must have at least one internal combustion engine.
Forward-thinking engineers at VIKING Norsafe, together with their project partner, Evoy, are challenging this somewhat out of date convention, with their medium to long-term goal of overturning the existing rule with the assistance of renowned classification society, DNV, who have submitted a SOLAS Novel Design application in support of the new technology.
Eliminates risks – increases reliability
According to Erik Mostert, head of R&D, VIKING Norsafe, the benefits of electrical propulsion, specifically for rescue boats, in terms of their reduced maintenance, increased reliability and sustainability, are as equally desirable for the rescue services sector, as they are for the leisure marine market.
Erik and the team from Evoy believe the existing rule will eventually become obsolete, following the rise in popularity and the eventual widespread use of electric propulsion for boats across the commercial and leisure sectors.
Erik stated: "Standards and regulations require a lifeboat to be started and stopped routinely to verify that they are operational. Evoy´s electric motors and battery systems eliminate the potential risks of wear and deterioration of internal combustion engines in association with this start/stop process."
VIKING Norsafe already have plenty of evidence with customers who are becoming increasingly more receptive to concepts with 100% electrically powered life boats and the company already have ongoing deliveries to major clients for this equipment. And for their part, EVOY have pioneered a number of unique firsts in electric marine propulsion market, including their prototype of the Outboard Storm, the world´s most powerful electric outboard engine, with 300+ hp.
Evoy Co-Founder and CEO, Leif A. Stavøstrand, said: "We are very excited for the partnership and frame agreement with VIKING. They are and have been a beacon in maritime safety for decades and we are humble that they have chosen Evoy to showcase to the industry that electric is a highly viable solution already today. Going electric for these types of boats will give great benefits for their owners and users"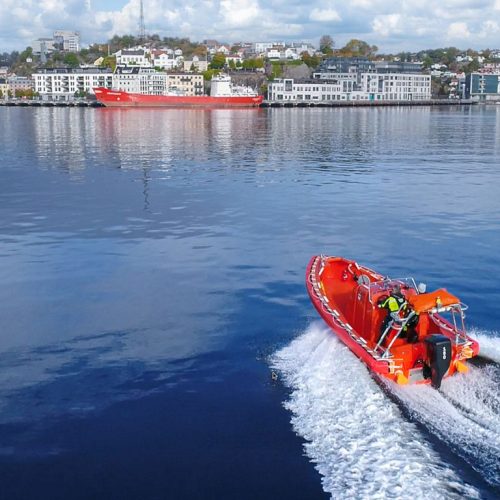 About VIKING LIFE-SAVING EQUIPMENT
VIKING Life-Saving Equipment is a global leader in maritime, offshore and fire safety solutions.
They manufacture, market and service safety and firefighting equipment for commercial vessels, cruise and passenger ships, offshore assets, fishing vessels, navies, helicopter services, fire departments and leisure yachts worldwide
VIKING brings the maritime and offshore industry all the elements needed to stay safe and compliant. Their range includes everything from lifeboats and evacuation systems to life rafts, personal protective gear and firefighting equipment. They also supply industry-leading servicing and safety agreements and first-class training solutions.
VIKING is a privately held corporation, founded in 1960. In recent years, VIKING acquired the Norwegian company Norsafe, whose lifeboats have been used around the world since 1903, and Drew Marine's FSR division, one of the world's three largest providers of Marine Fire Service.
Headquartered in Esbjerg, Denmark, VIKING products are manufactured in Denmark, Norway, Bulgaria, Greece, China and Thailand.
About Evoy
The shift to electric boating is happening now, powered by Evoy
Evoy design, develop, and deliver powerful 100% electric motor systems (outboard and inboard), made in Norway.
Evoy's systems are built for fast and powerful boats between 20 and 50 ft, bringing the superiority of electric leisure and commercial boating into new markets with Evoy's ground-breaking technology.
With a mission to reduce boating emissions without comprimizing on power and ease of use, Evoy is creating the Irresistible Boating experience. Made in Norway.